Thank you Mother Gaia, mesmerizing Planet Earth, and all your strong tribes and landscapes for giving us inspiration during the last years filled with all of these magical travels. May all of your beings recognize peace as the only way to rise up
We believe that aesthetic is not something superficial but something extremely essential for our development, our wellbeing, our health and our lives.
The universe that we live in is not material but instead is a field of energy, that is malleable to our influence. The essence of our lives and all life therefore is spiritual and filled with this energy. It is through beauty that we first experience this. The beauty and pristine glory of nature and in things around us evoke in us awe as we are inspired by it. The perception of beauty is a kind of barometer telling each of us how close we are to actually perceiving the energy. This is clear because once you observe this energy, you realize it's on the same continuum as beauty.
The things that we perceive as beautiful may be different, but the actual characteristics we ascribe to beautiful objects are similar. When something strikes us as beautiful, it displays more presence and sharpness of shape and vividness of color. It stands out. It shines. It seems almost iridescent compared to the dullness of other objects less attractive.
To feel good vibes, we all need a comfortable, beautiful, aesthetically correct environment where energy can flow and the eyes can enjoy.
We make beautiful handcrafted jewelry out of metal and gemstones, feathers and macramé.
For our interior design objects we use natural materials like wood. we try to recycle things to contribute to build a more sustainable future for us and Mother Gaia 🙂
We love decorating places and making them more cozy and beautiful using our intuition and spontaneous inspiration as well as ancient techniques and principles such as Feng shui to guarantee a good and healthy energy flow and  in spaces <3
Daniel has made beautiful handmade gemstone jewellery during the last years as well as amazing bags.
We can build ponds, gardens and shelters like huts using ecofriendly permaculture principles.
Please contact us if you would like us to build or decorate something for you !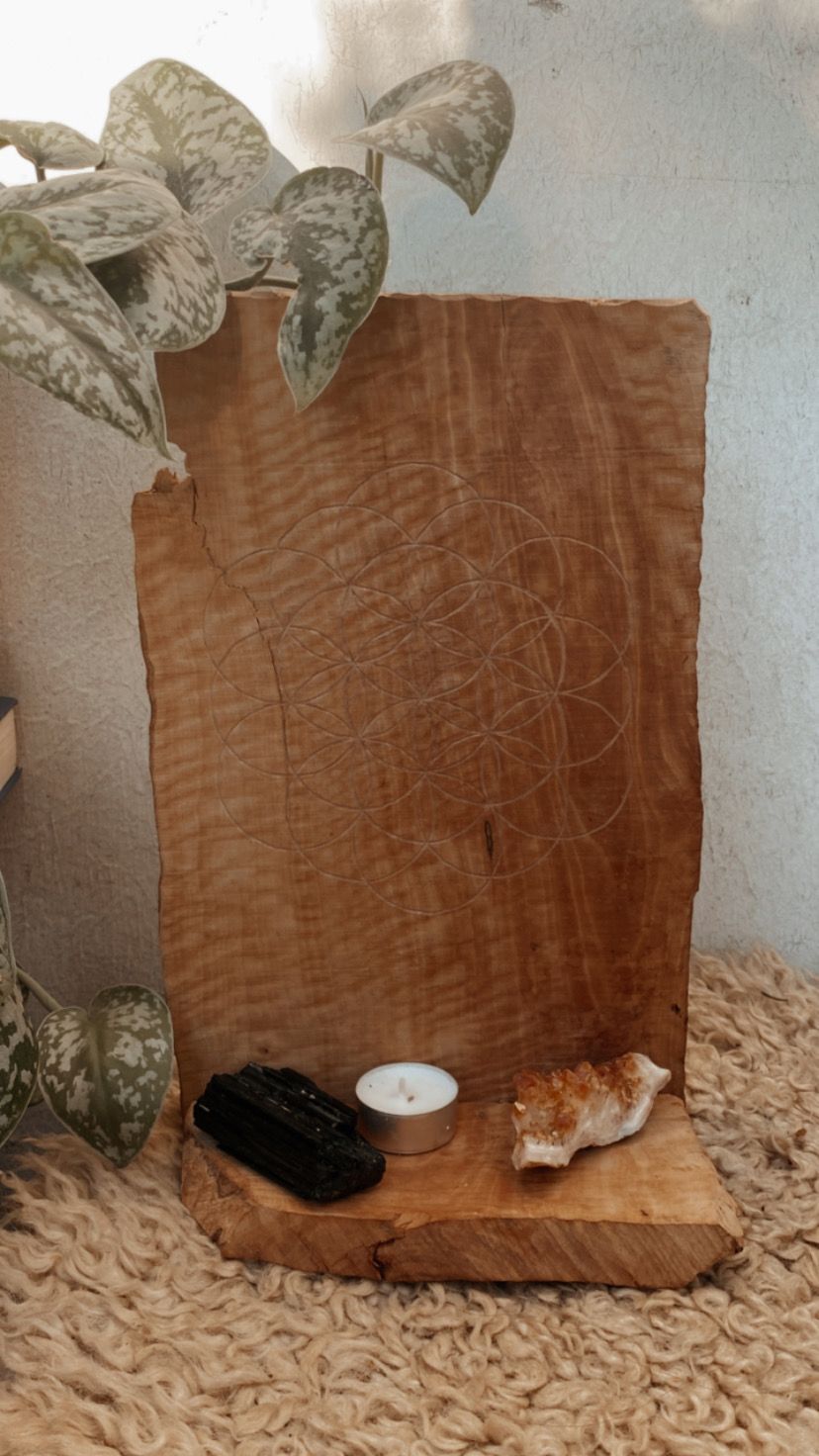 And a Poet said, Speak to us of Beauty. 
And he answered: 
Where shall you seek beauty, and how
shall you find her unless she herself be your
way and your guide?
And how shall you speak of her except
she be the weaver of your speech?
It is neither the image you would see nor the song you would hear,
But rather an image you see, tough you
close your eyes and a song you hear, tough
you shut your ears.
People of Orphalese, 
Beauty is life when life unveils her holy face.
But you are life and you are the veil. 
Beauty is eternity gazing at itself in a mirror. 
But you are eternity and you are the mirror.

-Kahlil Gibran
from the Prophet
If you want Daniel to create a custom made treasure for you - furniture, jewellery, bags - contact us here: